Feels like home
Swimming time!
DFC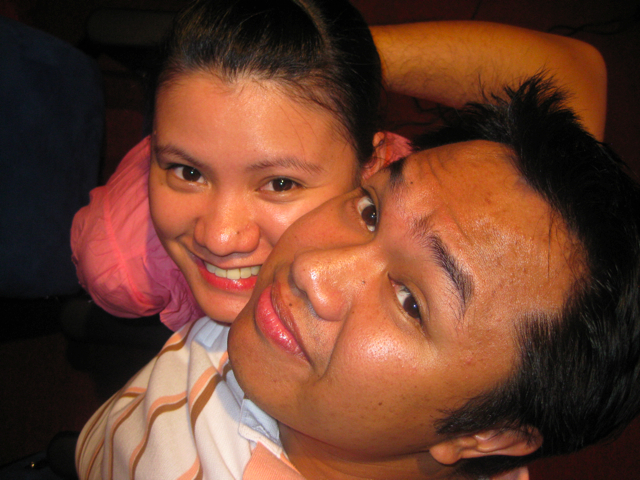 First group date with other couple-friends Rhael – Celine and Argie – Jannese, the six of us went to Dubai Festival City. We went all out that night: Sang our hearts out at a karaoke (not exactly a karaoke, but we used a PS2 to play the Singstar game at an arcade center…); Rode a boat in the infamous DFC canal (Rhael, Celine, Rachelle and I have a thing about boats…); Filled our stomachs at TGI Friday's.
First Monthsary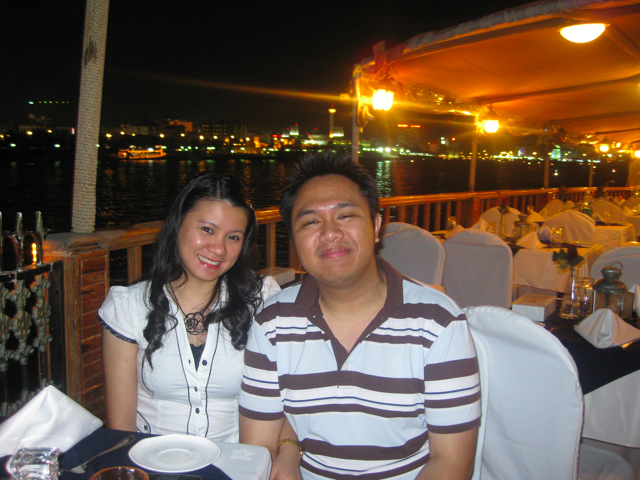 Our first month together went by like a breeze! Maybe it's really like that when you're happy, you don't even notice how time flies. It was just like yesterday when Rachelle and I got together "officially" that I still remember everything so clearly in my mind. This first month is so special for us that I planned to do something different.
I thought of us eating in a posh restaurant (so common), go out of the country (so far) and take a hot air balloon ride (so expensive). But none of those I thought of were viable in the time frame I have. I was already alarmed and in deep thought when I remembered one of those talks that we had about some of the things that we still haven't done here in Dubai. She at one time mentioned about she and her friends' plan to go on a Dhow Cruise but they were not able to do so. That gave me the idea to take her to a Dhow Cruise by surprise.
A week before our "first monthsary", I devised a plan on how to go about my little surprise. The "hopeless romantic" in me kicked in and with that, this plan materialized: I gave her three roses, but not all at the same time. I gave her the first rose in the eve of our "monthsary". When the clock ticked at 12 am, together with a card, I gave her a long stemmed red rose and we greeted each other a happy 1st monthsary. I told her that we'll just go out tomorrow and eat out to further celebrate our first month together.  What she didn't know was I already talked to a friend of hers, Freia, and asked her to give Rachelle the second rose in the morning with a card. Inside the card, there are instructions on where we would meet in the evening and what clothes we should  wear (I still didn't mention anything about the Dhow Cruise). I asked her to wear the clothes that we wore when we had out first date. That moment was so memorable for us that I want it to be a part of our celebration. I also asked her to meet me at Al Ghurair Mall in Deira. It was already close by the Dhow Cruise area and I want her to think that we would just eat our dinner in one of the restaurants at Al Ghurair.
When we met in the evening, she played her part well and she wore the clothes that I asked her to wear. At this moment, I gave her the third rose and another card. But unlike the other two fresh roses that I gave her, this one is an artificial rose. Of course, she asked me why. So, I told her that those roses will represent the love I have for her, that as long as one of those roses is alive, my love for her will always remain (I would no longer go into detail on the dramatics that followed that moment, I'll just let you all play with your imagination…).
After that, we took a taxi ride towards the Dubai Creek where the Dhow Cruise I earlier booked was at bay. She was still clueless as to where we are going. She keeps on guessing on what restaurant in Deira we are going to eat. Not until we reached Dubai Creek that she realized what we were doing there. I saw the glimmer of happiness in her eyes when she learned of my plan and  that was more than enough for me, my efforts paid off, I'm sure I made her happy.
We dined at the Falcon Oasis Floating Restaurant which serves a mix of Arabic and Oriental food. While we were eating the boat is cruising the length of the Dubai Creek, which gave us a good view of the creek and Dubai at night.
It was truly another night to remember for the both of us and we are looking forward for many more to come…